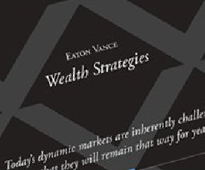 Goals-based solutions for optimizing wealth
We offer strategies and tools to help financial advisors and investors:
• Diversify or manage the risks of concentrated stock holdings
• Design a tax-managed completion portfolio around a concentrated security
• Enhance risk-adjusted portfolio returns and generate current income
• Minimize capital gains and other taxes
---
Financial advisors: Call our Wealth Strategies Group at 617-672-8500.
---

Concentrated Stock Position Calculator
Is your position an obstacle or an opportunity? See how diversifying can be a better option than a taxable sale of stock.

Wealth Strategies Specialists
Financial advisors: Contact your dedicated Eaton Vance specialist to learn more about our suite of specialized strategies.
Strategy Materials