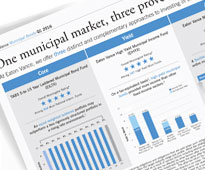 With more than 60,000 issuers, 1 million-plus CUSIPs and about $3.7 trillion outstanding in today's municipal bond market1, how can investors position their portfolios for uncertainty and maximize their after-tax return potential?
Blending the complementary strategies of core, yield and alpha2 may provide them with a more balanced approach and an investing experience no single municipal bond strategy could deliver on its own.
One municipal market, three proven approaches
Core
TABS 5-to-15 Year Laddered Municipal Bond Fund (EILTX)
Rules-based and engineered: Equal-weighted approach managed for capital preservation
Defense against rising rates: May outperform a less rigorously structured portfolio as rates rise
A core approach: A unique blend of passive and active management designed specifically for the muni market
View all our funds.
Morningstar information as of February 28, 2018
| Morningstar Ratings | Morningstar Categories/Number of Funds in Categories |
| --- | --- |
| | Muni National Interm |
| | High Yield Muni |
| | Muni National Interm |
| | Muni National Long |
Market Update Events
Listen to our Market Update events where portfolio managers will provide in-depth reviews of key strategies, market trends and investment themes.
* These Funds have recently experienced negative performance. For the Fund's performance as of the most recent month-end, please refer to our Performance page. Based on risk-adjusted returns. Past performance is no guarantee of future results. Eaton Vance offers other mutual funds that are not listed here and that do not have similar performance records. Please consult with your financial advisor before investing.

The Morningstar Rating™ for funds, or "star rating", is calculated for managed products (including mutual funds, variable annuity and variable life subaccounts, exchange-traded funds, closed-end funds, and separate accounts) with at least a three-year history. Exchange-traded funds and open-ended mutual funds are considered a single population for comparative purposes. It is calculated based on a Morningstar Risk-Adjusted Return measure that accounts for variation in a managed product's monthly excess performance, placing more emphasis on downward variations and rewarding consistent performance. The top 10% of products in each product category receive 5 stars, the next 22.5% receive 4 stars, the next 35% receive 3 stars, the next 22.5% receive 2 stars, and the bottom 10% receive 1 star.

The Overall Morningstar Rating for a managed product is derived from a weighted average of the performance figures associated with its three-, five-, and 10-year (if applicable) Morningstar Rating metrics. The weights are: 100% three-year rating for 36-59 months of total returns, 60% five-year rating/40% three-year rating for 60-119 months of total returns, and 50% 10-year rating/30% five-year rating/20% three-year rating for 120 or more months of total returns. While the 10-year overall star rating formula seems to give the most weight to the 10-year period, the most recent three-year period actually has the greatest impact because it is included in all three rating periods.

©Morningstar. All Rights Reserved. The information contained herein: (1) is proprietary to Morningstar and/or its content providers; (2) may not be copied or distributed; and (3) is not warranted to be accurate, complete or timely. Neither Morningstar nor its content providers are responsible for any damages or losses arising from any use of this information. Past performance is no guarantee of future results.

About Risks: An imbalance in supply and demand in the municipal market may result in valuation uncertainties and greater volatility, less liquidity, widening credit spreads and a lack of price transparency in the market. There generally is limited public information about municipal issuers. As interest rates rise, the value of certain income investments is likely to decline. Investments in income securities may be affected by changes in the creditworthiness of the issuer and are subject to the risk of nonpayment of principal and interest. The value of income securities also may decline because of real or perceived concerns about the issuer's ability to make principal and interest payments. No Fund is a complete investment program and you may lose money investing in a Fund. The Fund may engage in other investment practices that may involve additional risks and you should review the Fund prospectus for a complete description.

Investments rated below investment grade (typically referred to as "junk") are generally subject to greater price volatility and illiquidity than higher-rated investments. Derivative instruments can be used to take both long and short positions, be highly volatile, result in economic leverage (which can magnify losses), and involve risks in addition to the risks of the underlying instrument on which the derivative is based, such as counterparty, correlation and liquidity risk. If a counterparty is unable to honor its commitments, the value of Fund shares may decline and/or the Fund could experience delays in the return of collateral or other assets held by the counterparty.

Longer-term bonds typically are more sensitive to interest-rate changes than shorter-term bonds. Investments in income securities may be affected by changes in the creditworthiness of the issuer and are subject to the risk of nonpayment of principal and interest.

Ratings are based on Moody's, S&P or Fitch, as applicable. If securities are rated differently by the ratings agencies, the higher rating is applied. Ratings, which are subject to change, apply to the creditworthiness of the issuers of the underlying securities and not to the Fund or its shares. Credit ratings measure the quality of a bond based on the issuer's creditworthiness, with ratings ranging from AAA, being the highest, to D, being the lowest based on S&P's measures. Ratings of BBB or higher by S&P or Fitch (Baa or higher by Moody's) are considered to be investment-grade quality. Credit ratings are based largely on the ratings agency's analysis at the time of rating. The rating assigned to any particular security is not necessarily a reflection of the issuer's current financial condition and does not necessarily reflect its assessment of the volatility of a security's market value or of the liquidity of an investment in the security. Holdings designated as "Not Rated" are not rated by the national ratings agencies stated above.

1 Sources: Federal Reserve, Citigroup and Bloomberg as of 3/31/2016.
2 Alpha measures risk-adjusted performance, showing excess return delivered at the same risk level as the benchmark.
3 Diversification cannot ensure a profit or eliminate the risk of loss. Largest position size as of 6/30/2017.
4 Prior to 11/14/16, Fund was called Eaton Vance Massachusetts Limited Maturity Municipal Income Fund, had a different objective and employed a different investment strategy. Please see prospectus for more details.