How should I deal with concentrated stock positions?
Many successful investors hold portfolios that are too heavily concentrated in a single stock. Sometimes the stock that dominates a portfolio is that of a current or former employer. In other cases, the oversized holding was acquired through a merger or acquisition. Or the stock may have achieved its dominant position simply by outperforming other holdings over time.
Whatever the background, investors with concentrated stock positions face the risk that a change in the fortunes of a single company could jeopardize their financial well-being. Lehman Brothers, Enron and other prominent failures of recent years remind investors that no company, no matter how strong or well-positioned it may seem, is immune from risk in today's fast-changing economy. Most financial advisors therefore recommend that clients restrict single-stock positions to prudent limits, typically not more than 10% of portfolio value.
For taxpaying investors, no doubt the biggest impediment to diversifying low-cost stock is capital gains taxes. Selling low-cost stock from a taxable account involves a tradeoff between the known upfront tax and transaction costs and the uncertain future benefits of risk reduction. For many investors, capital gains taxes (including state and local taxes) equal to 25-35% of the value of their investment may seem too high a price to pay for diversification.
There are ways other than a taxable sale of stock in which the risk of a concentrated equity position can be addressed. In evaluating options for diversifying your concentrated stock position, you may want to consider the information below.
Concentrated Stock Position Calculator
First, let's calculate the total amount of embedded capital gains taxes on your stock
Assuming maximum for all tax brackets, it's fair to assume your AGI is high enough in order for the Limitation on Itemized Deductions (PEASE) to apply to you. This limitation effectively adds 1.18% to your marginal tax rate. This assumption is reflected in the output.
---
The current market value of your shares is
0.0
.
If you have a large concentrated stock position, you may want to diversify. Selling your position, however, may expose you to a large capital gain tax bill.
Your long-term capital gains would be .
Your short-term capital gains would be .
If you liquidated your stock position, you would pay
0.0
in capital gains taxes4.
You would need to increase your remaining capital by
0.0
to get back to where you were.
Next, let's consider the impact of these taxes on your portfolio over the longer term.
If you liquidated today, paid capital gains taxes, and reinvested your net proceeds into a diversified portfolio6
...And held for
0

years and realized your estimated rate of annual return, your portfolio value would be

0.0
IF YOU THEN LIQUIDATE AND PAY CAPITAL GAIN TAXES YOUR NET PROCEEDS WOULD BE7
THE NET PROCEEDS (NOT INCLUDING ANY POTENTIAL INHERITANCE TAX) WHEN YOUR HEIR(S) SOLD THE PORTFOLIO, WOULD BE7
0.0
If you were able to diversify your stock position without incurring capital gain tax
...And held for
0

years and realized your estimated rate of annual return, your portfolio value would be
IF YOU THEN LIQUIDATE AND PAY CAPITAL GAIN TAXES YOUR NET PROCEEDS WOULD BE7
THE NET PROCEEDS (NOT INCLUDING ANY POTENTIAL INHERITANCE TAX) WHEN YOUR HEIR(S) SOLD THE PORTFOLIO, WOULD BE7
That's a difference of $1,296,796.
Eaton Vance is positioned to help advisors address the most pressing issues facing sophisticated investors today. Learn more about our Wealth Strategies for concentrated stock.
Learn More
Learn More About How Taxes Can Impact Your Investments
How can I determine my actual tax rate?
See the breakdown of how taxes could consume more than 50 cents of every dollar earned.
Calculate
Your Actual
Tax Rate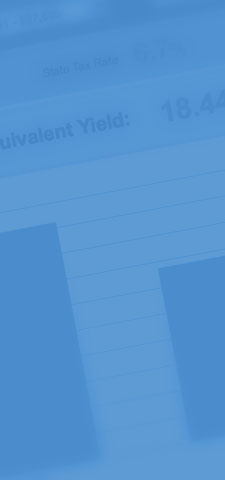 Help evaluate tax-advantaged bonds
See how munis' favorable tax status compares with taxable bonds of equal quality and maturity.
Calculate
Your After-Tax Yield Potential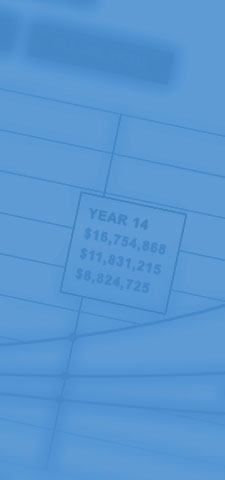 How can I prepare for rising interest rates?
See how laddered portfolios may perform in an environment of higher taxes and rising rates.
Calculate
Your Laddered Bond Potential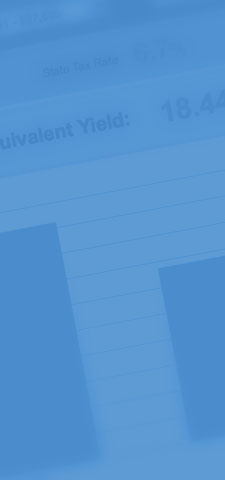 The output of this calculator is for educational purposes only and should not be considered investment, legal or tax advice. The output is general in nature and may not apply to your individual tax situation and is not intended to serve as the primary or sole basis for your investment or tax-planning decisions. For more individualized information, you should consult your tax advisor and investment professional. You bear sole responsibility for any decisions you make based on the output of this calculator. The calculator makes certain assumptions that may not apply to you. The calculator has many inherent limitations and individual actual results may vary. The calculator and disclosure reflect tax rates and tax laws are updated as of February 1, 2017.
Diversification does not assure a profit or prevent against loss.
The information provided above is not intended to reflect the results of any specific Eaton Vance product or investment program. The return assumptions inputted by you above may not be realized and results may differ materially from those reflected above. The tax treatment of the various options for repositioning a concentrated stock position varies and may not completely avoid capital gain tax in all cases. Investors should consult with their investment professional and tax advisor before investing. Past performance is not a guarantee of future results.
The Phaseout of Personal Exemptions (PEP) is ignored in this analysis as the effect cannot be calculated only with taxable income. It is possible (although unlikely) that is could raise your marginal tax rate by 0.7%. The Limitation on Itemized Deductions (PEASE) is ignored in this calculation unless taxable income is above $650,000 or "Maximum for all tax brackets" is chosen. It may apply in other instances but this cannot be determined with only taxable income. Please consult with your tax advisor.
* Outputs are based on information available on the Social Security Administration Web site as of 2013.
1 Taxable income is your gross income, less certain adjustments (expenses, qualified account contributions, alimony paid), less exemptions (personal and dependent) and all deductions (mortgage interest, property taxes, charitable contributions, etc.).
2 The "Married filed separately" and "Qualifying widow(er) with dependent child" status are not given as options on this calculator but may apply to you.
3Some local jurisdictions may levy an income tax that is not shown as a choice above. If that is the case, then your marginal tax rate may be higher than what is shown.
4Long term capital gains are those in which the investment was held for more than one full year. Short term capital gains are those in which the investment was for one year or less. Most states tax capital gains the same as ordinary income and that is assumed here. Some exceptions may apply. Federal long term capital gains rates are assumed to be 15% or 20% (depending on your income level). Different rates may apply to certain types of assets.
5Upon your death, the tax basis of your stock will increase or decrease to the stock's estate tax value (fair market value as of the date of death or six months thereafter) or, if the stock is fully redeemed within six months after death, its value on the date of redemption. This basis adjustment eliminates potential tax liability for previously accrued capital gains.
6Net proceeds reflect the deduction of the amount of capital gain tax set forth above. You may incur costs in selling stock (such as commissions), which are not reflected in the calculation.
7If you sell your stock and pay capital gains on the sale and then reinvest the proceeds, your newly acquired positions will have a tax basis equal to such proceeds and this new tax basis is used in the calculation of your net proceeds above. If you reposition your concentrated stock position without incurring capital gain taxes, you may be able to retain the basis in your concentrated position. In determining the net proceeds in such case, your original tax basis in your concentrated stock position is used above. In the event you pass your portfolio to your heirs, the basis will be as described in footnote 5 above. There also may be a state inheritance tax liability, which is not calculated here.